Saturday 4th January 2014
by Brittany
It has been over a year since I posted. And what a year it has been!
At that time (November of 2012), two of my friends had just gotten married the week before, and after getting back from their out-of-state wedding, I was baking cookies for their Texas wedding reception—–little dreaming that, in less than a year, I would be married, too.
Warning: What follows is a year-at-a-glance, and thus, is a very long post. If you prefer, you can skim and read the bold phrases, and get a general idea of what happened.

This year (2013) began very joyously with David proposing to me on Valentine's Day—he even managed to make it a surprise! He asked me to enter into a betrothal covenant with him, and asked me to marry him. To which I said, "I would love too!"
A few weeks later, on the 23rd of March, we had our private betrothal ceremony.
David and I exchanged vows (which we had prayerfully written) and silver betrothal rings, to symbolize the commitment and the covenant we were making with each other. We had a time of our families speaking blessings, a time of reading Scripture, worshiping the Lord, and a shared meal.
(Betrothal is a binding commitment to marry, after which the bride- & groom-to-be are viewed as husband and wife, but they are not yet "married", and they don't live together, until after their wedding ceremony. An example of this can be found in the story of Mary and Joseph, in the Bible.) If you're a little confused, don't feel bad. I had only heard of betrothal when David first mentioned it to me, two weeks into our relationship, and had very little idea what it meant or entailed!)
Since David and I lived an hour from each other, we didn't see each other every day, but we made up for that with phone calls, emails, and many handwritten letters. Some of my most special memories of our betrothal were the times of prayer and studying the Bible we had together, over the phone, and when we shared with each other what God was teaching us. Shortly after David and I were betrothed, I started going and helping David and his family (and other friends from our church) at "Wednesday nights" where they have been teaching the 8-12 year olds for years at a church in their town. We have a wonderful time praying, studying the Bible, and playing and interacting with the kids before and after class. It does get a little loud and noisy and rambunctious at times, but I have greatly enjoyed this opportunity to love on these special kids, and learn how to better teach the Bible and share the gospel.
In July, David and his younger sister, Sara, and Jordan and I took a sibling trip to serve for a week at a Bible camp in Arkansas.
David took Jordan and Jared with him a couple of years ago, and now it was Sara's and my turn! As in previous years, David was in charge of teaching the teens, and Jordan, Sara, and I helped him———and I absolutely loved it. We had a great group of young people———most of whom stayed very involved in the discussions and paid attention to the Bible studies. We focused on studying the nature and character of God, because that is the starting point for everything. Our week at camp certainly wasn't all work, though. The first evening, after we arrived, and had free time, David took all of us to watch a local fireworks display———and he and I tossed around a few wedding plans and ideas while we waited for the fireworks to being. Sara and Jordan would say David and I spent more time looking at each other than at the fireworks, but that wasn't really the case. During the afternoon break each day at camp, we were able to swim and canoe while keeping an eye on the kids, and in the evenings, we went for walks and just enjoyed time together, or with the other people at camp. Sara and I were roommates———which was quite the treat. We'd never gotten to spend that much time together in one week! A couple days after getting back from camp, wedding planning commenced in earnest, and by the end of the month, we had decided on a wedding date———yes, finally!
August, September and October were filled with wedding planning and preparations, attending more births, a quick day-trip to Oklahoma to go canoeing with David's family, and just the everyday stuff of life, too.
I had decided, back in April, to sew my wedding dress myself, and I had purchased the fabric then. I cut it out and sewed the lining back in June/July, but it wasn't until August that I set to work in earnest to finish it. My goal was absolutely no late-night sewing at the last minute———and I almost succeeded. I did finish my mom's blouse the night before the wedding. *sigh* At least my wedding dress and David's shirt, vest, and cravat (I sewed all of those, too), were ready weeks ahead of time!
Going into wedding planning, I wasn't sure exactly what to expect from David. From all that I'd heard, it was typical for the girl to do most of the work involved in planning for a wedding———that, or a wedding coordinator. That was not David's idea of his role, however.
I'm so thankful for how involved he was, even while busy with work and other things. He did so much to lighten my load, and help me make decisions that were best for everyone. There were only a couple points where it was momentarily a little stressful (for me); the rest of the time we both thoroughly enjoyed the journey! A simple, outdoor wedding with as many family and friends present as possible, with a modest budget, was what we both wanted. However, the most important thing to both of us was that the focus of our wedding would be on God, and that it would be a reminder of why He created marriage, and what our marriage should be a picture of—the covenant love between Christ and His Bride, the Church. We spent time in prayer over every decision, and did our best to remember to pray every time we sat down to wedding plan. We wanted this wedding to be all about Him. As I shared with David, my earnest desire was for people to NOT walk away thinking about us…but instead, to walk away thinking about Christ, and on how amazing and wonderful and awesome He is!
During the ceremony, David briefly shared what God had taught us as He brought us together, and what He was still teaching us on this journey. Because we had decided on an outdoor wedding, we had prayed about having a back-up plan (such as a tent), or an alternate location in case of rain, but God gave us peace that He would answer our earnest prayers for a clear, calm day. We trusted Him to provide, and He did!
In fact, God provided perfectly for every detail of our wedding day. Our wedding was held at the property of a church friend (they have lovely, huge oak trees, and there are beautiful fields and trees on the surrounding acres). If we were going to serve cake or desserts at our wedding, my desire was that they not be made from white flour and white sugar, but that they would be delicious and healthy.
Here too, God blessed! One of the mothers in our church made delicious gluten-free carrot cake and cupcakes with incredible icing for us. A dear neighbor and her girls made tea and served that and trail mix at the reception.
One dream of mine has long been that my father would be the one to officiate at my wedding———God worked that out too.

All of David and my siblings sing and play instruments, so they provided the music for the wedding and reception, which was so special! Beautiful photography and videography was provided by more dear friends.
The sound system and chairs were lent to us by our churches. And those two friends who got married last year? They were our wedding coordinators———and did an awesome job, let me tell you!
Other friends served as ushers, decorators, reception servers, and much more———even our families took care of details on the day of the wedding.
We had an absolutely wonderful, and stress-free day, thanks to the generosity and the hard work of family and our friends.

Every time we think back on our wedding day, David and I both agree that it was incredibly special, and that it couldn't have been any better. It was certainly a very unconventional wedding, but it was perfect, and it very much fit who we are.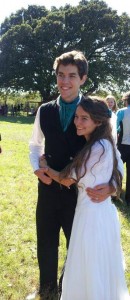 The day after the wedding, David took me up to Beaver's Bend, OK, for a lovely little honeymoon. We had a lodge room provided for us right off the lake, with a perfect view of the water and surrounding trees and forest. We got to enjoy watching a storm blow across the lake, and capture some gloriously vibrant sunrises———yes, we took our cameras. We walked in the woods, went down to the water, skipped rocks, tried one of the local restaurants (they had delicious food), and even managed to take a little 2-hour canoe ride down one of the rivers fed by the lake. It was a delightful few days!
Once back in Texas, we settled down into our cozy little two-bedroom travel trailer. Yes, we're living in a "tiny house" and we really enjoy it! When David and I talk with each other about our "someday" house that we'd like to save for, and eventually build, it's not more space we dream of, but a more energy-efficient home, and one in which we could reduce our monthly bills even further———we've researched solar power, rainwater catchment, water purification that is simple and sustainable and doesn't require electricity, and even composting toilets.
After barely settling down to newly-married life, the holydays were upon us! Now that we're married, the Thanksgiving festivities lasted two days. We spent one day with the Cronins and their extended family (which included eating, of course, but also Frisbee and more at the park), and the next day we spent with the Penningtons and their extended family (which featured eating, a great soccer game, and a very special time of praise and worship at the end of the evening).
This December, we weathered the ice storm and sub-freezing temperatures that hit North Texas. When the electricity went out very early on Friday morning, were extra grateful for our next-door neighbors (my "original" family), and their wonderful hospitality and the wood stove. We spent the weekend over at their house, and had great family time, cooked on the wood stove, did some knitting and sewing, played chess and board games, did Bible studies, and had praise and worship time complete with instruments.
Amidst all the busyness of this year, David and I definitely learned more about what it means and looks like to truly, selflessly love another person———and as God is teaching us how to love each other in an unconditional way, it has also greatly helped us to better understand God's love towards us.
"And this is love, not that we loved God, but that He loved us and sent His Son to be the propitiation for our sins… and not for ours only, but also for the sins of the whole world." 1 John 4:10, 2:2
True love is serving someone else instead of ourselves—and without expecting anything in return. Which is why the Bible describes love as "charity". Love is not receiving; it is giving.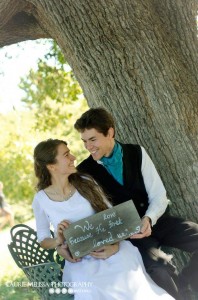 "This is the Lord's doing, and it is marvelous in our eyes…" -Psalms 118:23